GK Spotlight: Get tips for upcoming chapter events from Michigan State University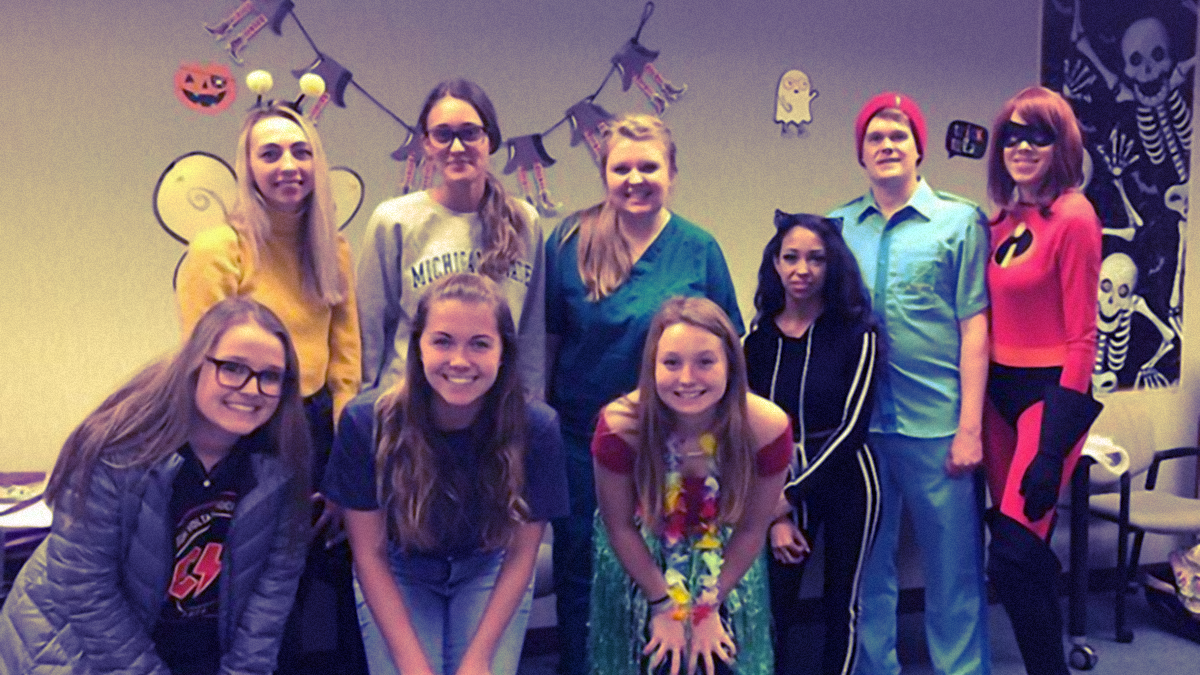 The Golden Key chapter at Michigan State University recently hosted an incredible service event with a Halloween theme – and we were thrilled to have them document it with a takeover on our Instagram! It was a huge success, so we asked their intrepid leaders to share some of their wisdom and experience on how to prepare the perfect event. Here's what they had to say….
The Michigan State University chapter of Golden Key International Honor Society teamed up Student Parents on a Mission (SPOM) to host the 2nd Annual Halloween party for children of student parents. The end of October is midterms time and many student parents need to study rather than go trick or treating with their kids. This party was designed to give parents a break so they could study as well as give their children an authentic Halloween experience. We had face painting, coloring, cookie decorating, craft making, tic tac toe, and a bunch of candy and food. We had over 100 student parents and children attend during the 3 hour party. It was a great way to give back to kids who deserve so much!
What was the feedback like for the event?
Last year was the first year we hosted the event and we had such rave reviews that we were requested to do it again. We had many student parents and children return this year and enjoy the many activities that they enjoyed last year as well as many new ones. Same thing this year. We are already on the schedule for next year…
What was your process for planning this event?
We promoted our event to the student parents on campus through our social media and the university office for student parents.
We also sent the information to the student parents who has attended last year and encouraged them to come back for more fun.
We recruited our Golden Key volunteers through our social media, Facebook event, and inviting our personal friends to join along. We were so happy to see that so many of our volunteers got into the spirit and dressed up in their favorite Halloween costumes.
In terms of planning, we booked our room in the Student Services building which is a building designed for student organizations to hold meetings and events.
We made sure it was a central location for all student parents to access easily.
We also planned our Halloween party a few nights before October 31st so college students would not be disruptive to the young children attending our party.
Our service project was such a success and we can't wait for our 3rd annual party!
What tips do you have for other GK chapters and members who would like to do a similar event?
In order to plan a service project like ours, planning is most important. Planning starts several months before the date of the event. It's easier to make an event work when you have other community or university partners (like SPOM- Student Parents on a Mission) to help recruit volunteers and participants.
Also, social media is very important in communicating the details of your event with the university. Michigan State is so large that without the help of social media, we would not be able to talk to everyone about Golden Key or our service projects. We use Facebook, Twitter, and Instagram as well as making a Facebook event to share with university Facebook groups.
We also send the details of our party to the Honors College, Student Government, and other programs and have them include our event in their weekly emails to their constituents. This gets the word out to a lot people very quickly.
What events do you have planned for the future?
For the past four years, during the month of November, our chapter dedicates our time making holiday cards for children at Sparrow Hospital. We had this event on November 13th at our school's student union. We made 100 cards for children needing a little extra cheer this Christmas season. We also did a Golden Key Instagram takeover during this event – head to the highlights to see more…
---
---