Join us for Golden Key Talks!
Golden Key Talks are FREE live webinars featuring renowned experts that cover a wide range of topics including career, study, psychology, well-being – and so much more!
These inspiring talks focus on topics that are important to our members – and they are open to everyone. So feel free to spread the word, and to invite along your friends, parents, advisors and anyone else you might find these talks interesting.
Subscribe to the newsletter for upcoming talks!
Register now for upcoming Talks
To join the webinar, all you have to do is register using the links below, so you'll be sent an email reminder when the webinar is starting. Then log in at the correct time from anywhere in the world.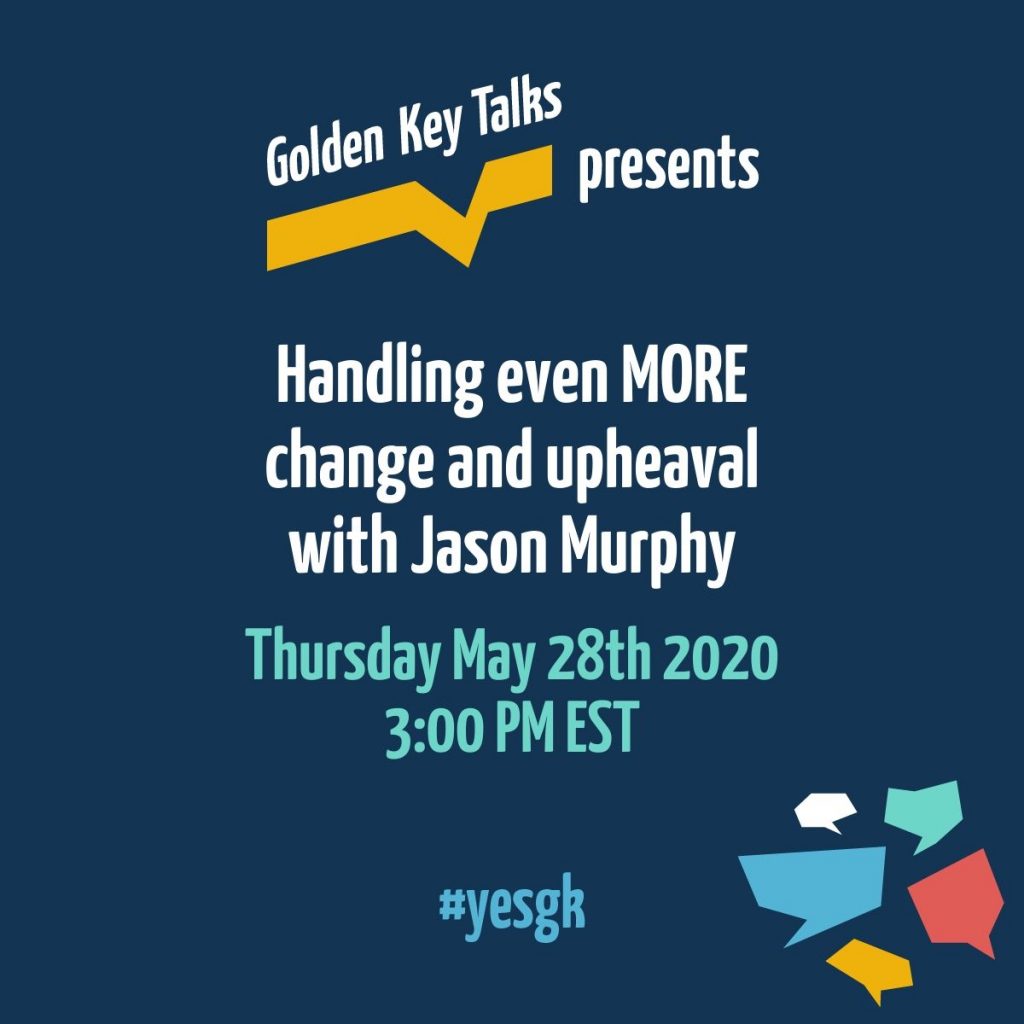 Handling even MORE change and upheaval with Jason Murphy (rescheduled)
Join us on Thursday, May 28th @ 3:00PM EST for an exclusive Golden Key Talk with Jason Murphy. Back by popular demand! After a very successful webinar earlier this year, Jason Murphy returns to Golden Key Talks to explain that the key to adapting to change is to evaluate your own attitudes and perceptions. This course will go deeper into the tools you need to understand your stress related to change, understand how you react to change, and learn how to balance these reactions. As a result, you will be better braced for change, will change your outlook on change, and changes implemented in your organization will be more successfully received.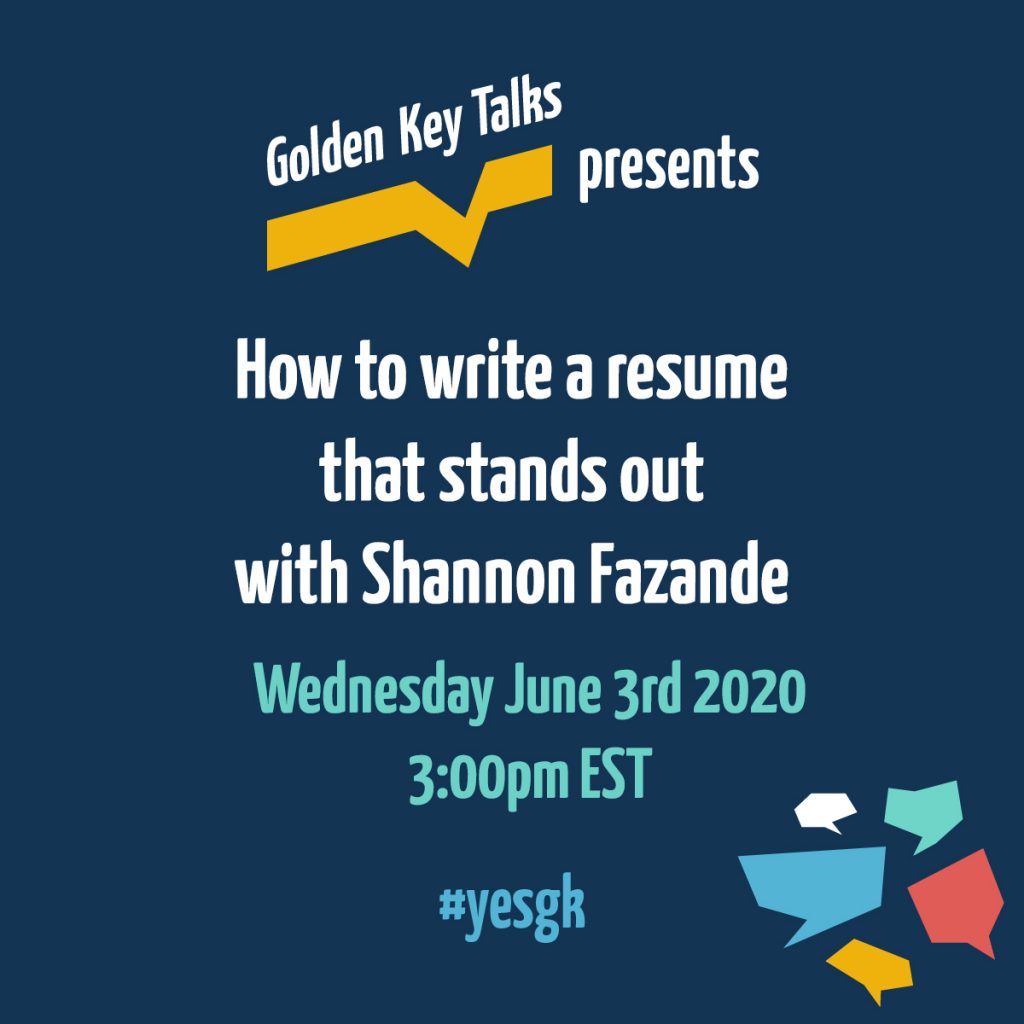 How to write a resume that stands out with Shannon Fazande
Join us on Wednesday June 3rd @ 3:00pm EST for an exclusive Golden Key Talk with experienced HR consultant Shannon Fazande. Whether you're writing your first resume or need to give your existing resume a bit of a boost – this very practical and easy to follow webinar will give you just what you need. Industry expert Shannon Fazande will walk you through the dos and don'ts of resume writing, and help you to understand the best way to highlight your strengths and achieve success.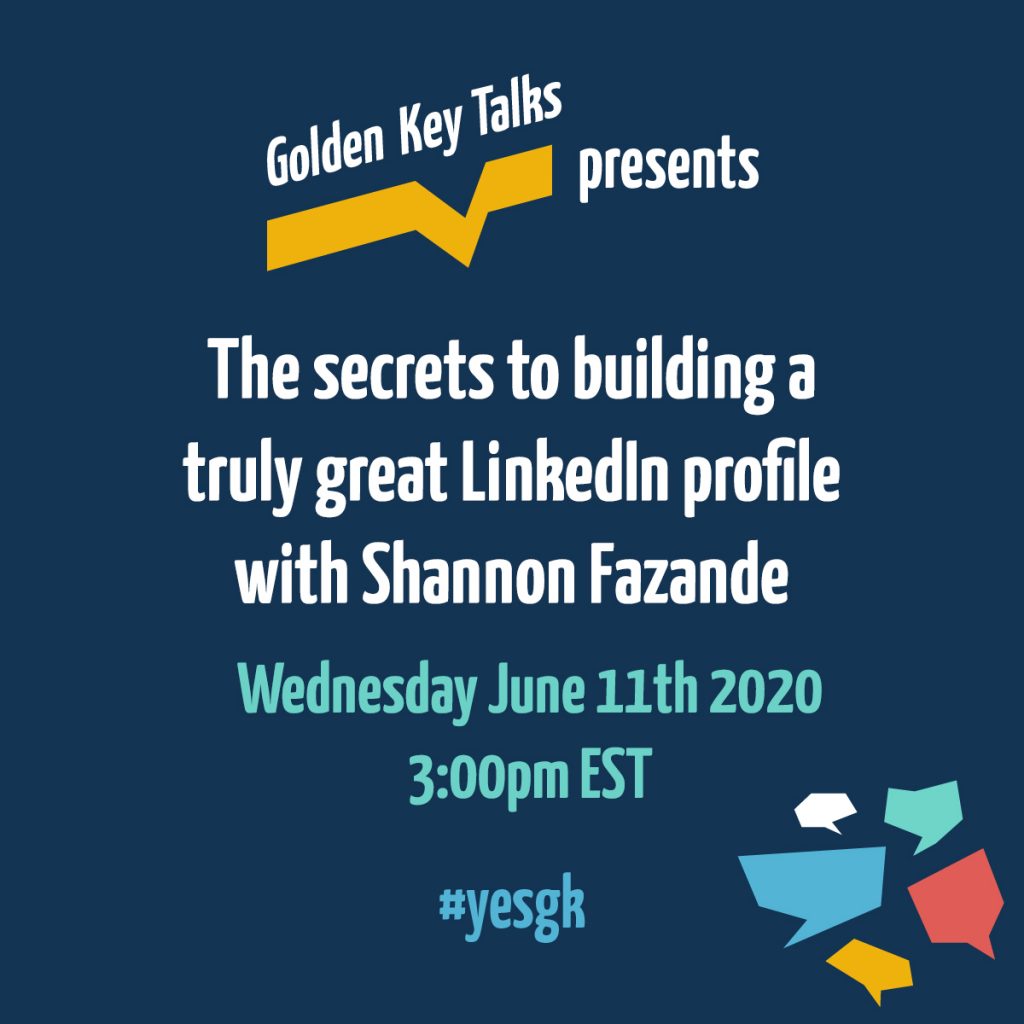 The secrets to building a truly great LinkedIn profile with Shannon Fazande
Join us on Thursday June 11th @ 3:00pm EST for an exclusive Golden Key Talk with experienced HR consultant Shannon Fazande. Everyone has a LinkedIn profile these days – but how well do you actually use it? Are you presenting yourself in the best light? Are you taking advantage of all the benefits? Find out the answers to these questions and more when HR consultant Shannon Fazande returns for the second week in a row to give another fantastic Golden Key Talk.
Have a great idea for a future talk that you'd love to share with us? Send us a message with any suggestions you might have for interesting topics and inspiring speakers you would like to see as part of our line up.
Missed the last talk? Don't worry, you can watch it now...
Don't forget to Download the Career Series E-Book!
Get expert tips on resumes, job interviews and networking delivered to your inbox!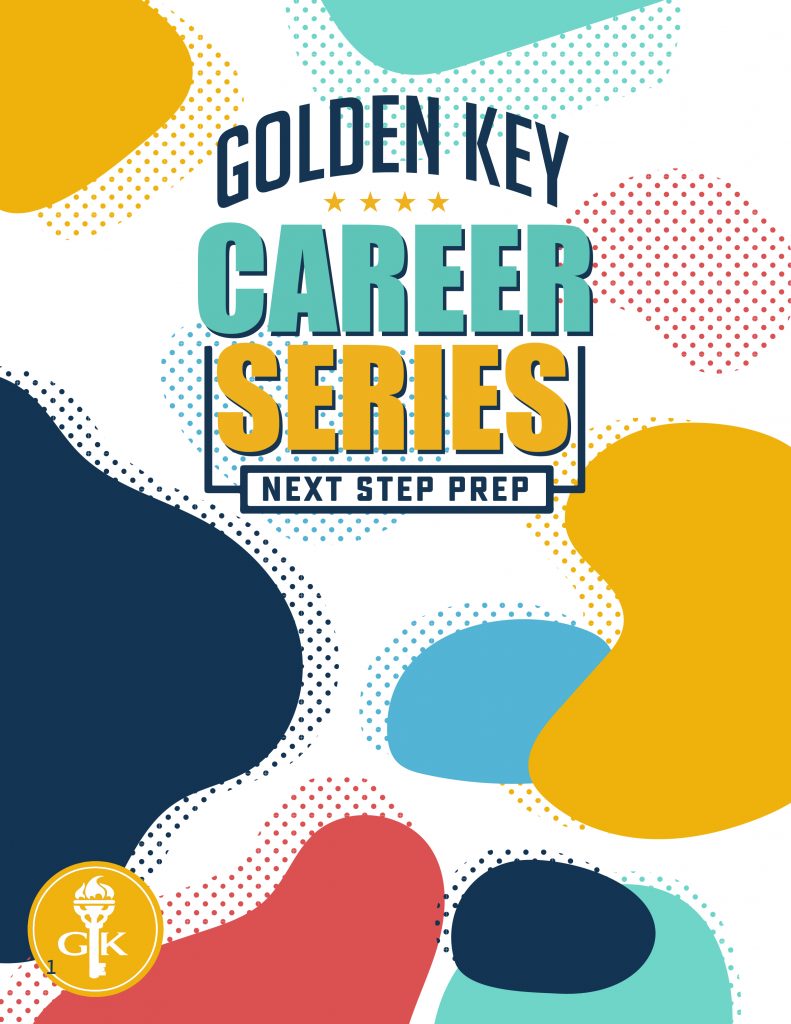 Join 2M+ Members Worldwide
Joining Golden Key is more than rewards and scholarships. 
It's about developing your capacity for leadership, giving back to your community, and taking big strides towards your future with the support of our international network.
Apply for Membership
Not sure if you qualify? Click below to submit your details.
Already Invited?
Join us today! Click below to complete registration.​