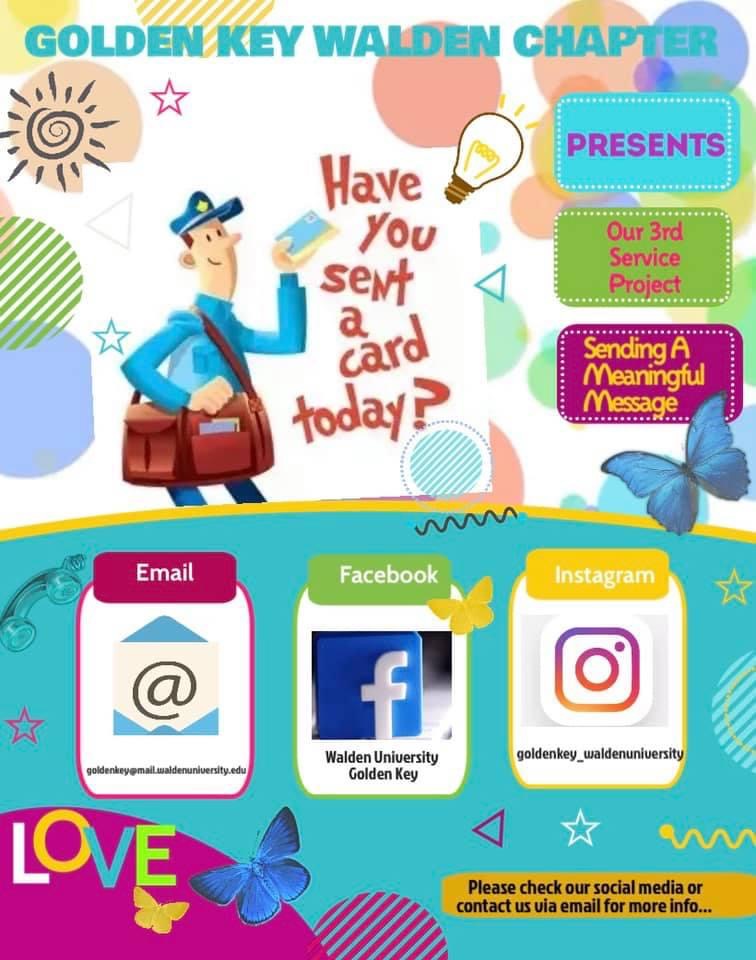 GOLDEN KEY IHS WALDEN CHAPTER'S THIRD SERVICE PROJECT
TITLE: Sending A Meaningful Message
DATE: Monday 1st March 2021 at 12:00am (AST) to Monday 31st May 2021 at 11:59pm (AST)
Description:
How do you feel when you receive a sincere greeting, or a card filled with well wishes? It really warms your heart and brightens your day. Receiving a card or message filled with genuine sentiment could really make a difference in someone's life. Here at Golden Key International Honour Society, Walden University Chapter we know that "You're Amazing" and reminding you of that is our mission. Therefore, we would like to dedicate our third (3rd) Service Project for the 2020/2021 period towards sending a free card to the kids at St. Jude Hospital. We all know what a difference sending a heartfelt and encouraging note could make in our lives, now it's time to make a difference in the lives of others. This Service Project is targeted towards bringing awareness of emotional intelligence, the importance of understand our emotions and our ability to create positive social interactions. Furthermore, through this awareness, we learn the impact that we have on others and how our influence could make a positive change in another's life. In order to help raise awareness, the Chapter Leaders invite Golden Key Members along with their families and friends to participate in the "Sending A Meaningful Message" Challenge. This challenge is really easy and something that individuals of all ages could get involved in.
The instructions for The Challenge are as followed:
Start by setting aside some alone time in a quiet, relaxing space,
Allow yourself to really focus on self-reflection and introspection,
Next, allow yourself to gain insight on your journey to self-awareness,
After these steps are completed, allow yourself to think about what you would like to say to someone going through a really difficult time, health issue or struggling in some way,
Log on to https://wwww/stjude.org or click on the following LINK: https://www.stjude.org/get-involved/other-ways/online-card-message-patients.html (it would take you directly to the page),
Select the "WRITE A MESSAGE" button or the "¡También hablamos español!" option for Spanish,
Next, pick one of the Artwork pieces and Select the option "Choose This Card",
Here you could "Start Typing Your Message" OR "Select A Pre-Written Message",
Select the "Save Message" Option,
Finally, include your personal information or company/organization information and click on the "Send Your Card" Option. Yes, that's all!!!
Share any pictures and videos you feel comfortable with to us via social media* (please see below), e.g., your personalized message or the card you selected and hashtag #yesGK #WaldenUniversityGoldenKey #SendingAMeaningfulMessage feel free to tag us as well.
Location
Virtual, United States
Campus Walden University