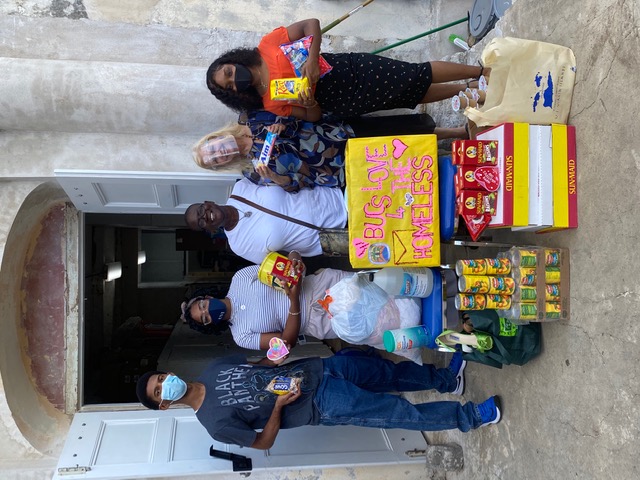 BUCs Love the Homeless Drive Go to Chapter
UVI- St. Croix and Golden Key Chapter held a donation drive for items to helpless those citizens in the Virgin Islands that find themselves homeless. The Collective Collaborative Mission is housed in one of the oldest structures in St. Croix, built in mid-1700 's. It is nestled next to a large cemetery in the middle of one of our two towns- Christiansted. The surrounding grounds are clear of clutter and exude a peaceful ambiance for those sheltering under gently swaying palms.
Our members and UVI-STX students collected a variety of items- canned food, toiletries, clothes, candy, shoes and other goodies which our members and advisors delivered the donations to the dynamic, Karen, who is the founder and director of this private effort to support the homeless folks in Christiansted. She was most grateful. Karen took our delegation on a tour of the facilities. Although the building is old, it is very sturdy and roomy. The lower floor has been renovated to house a clothes closet for men & women, a TV room, a lounge for women, place for cots at night and a 'feeding ' room where clients can pick up a meal prepared on site fresh daily in the kitchen on the 2nd floor.
The comfortable and welcoming grounds around the building hold an unusual palm tree which.,for unknown reasons, has grown horizontally along the ground for 10 or so feet then it shoots directly up vertically for another 10 or more feet high and is festooned with healthy leaves. The palm is supported only by a thin root system and is an analogy for many of the clients that Karen serves as well as an example of traumatic growth.
Our donation was richly welcomed and our student members were excited to be part of a real project helping the homeless folks on our island. This service project gave them a real sense of how we go at solving some of our modern society 's problems- one person, one step at a time.
Location
Rr 1 Box 10, 000 Kingshill, United States
Campus University of the Virgin Islands, St. Croix Building Name Melvin Evans Center Room Number 721
Starts
Feb, 10 2021 03:00 PM
Time zone
America/St_Thomas
Ends
Feb, 10 2021 05:00 PM
Time zone
America/St_Thomas
Contact Information
Patricia Towal, M.Ed. LPC- Advisor, Golden Key International Honour Society, St. Croix Chapter
Director of Counseling & Career Services, Albert A. Sheen Campus, St. Croix
[email protected] 340-692-4187 EVC 721
Sophia Johnson- Co-Advisor, Golden Key International Honour Society, St. Croix Chapter
Director of Student Activities, Albert A. Sheen Campus, St. Croix
[email protected] 340-692-4228 Student Activities Area