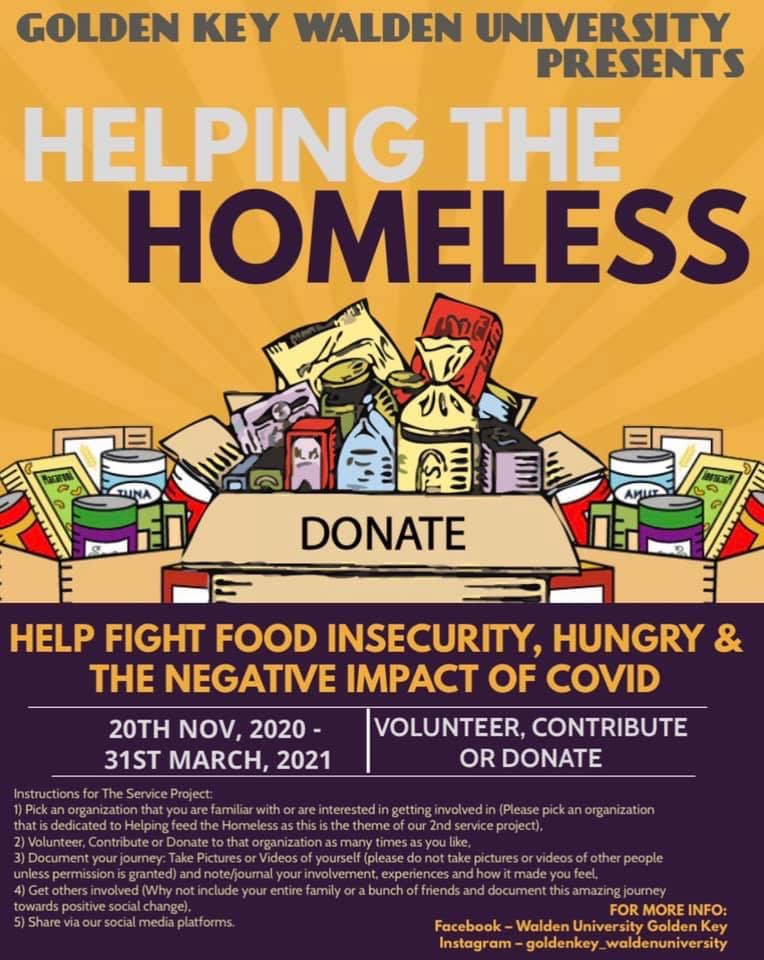 GOLDEN KEY IHS WALDEN CHAPTER'S SECOND SERVICE PROJECT🌎
TITLE: Helping the Homeless
Date: Friday 20th November 2020 at 12:00am (EST) to Wednesday 31st March 2021 at 11:59pm (EST)
Description:
​In continuation of our 1st Service Project, the Golden Key Walden University Chapter would like to extend their assistance with helping feed the homeless via various organizations that our Chapter Leaders are involved in. These organizations range across the United States of America and the world. Our members from across the globe are invited to join us by either participating in one of our selected organizations or getting involved in one of their own and sharing a bit about it with our team. This could be done on either our social media pages (Facebook: Walden University Golden Key or Instagram: goldenkey_waldenuniversity) or via email: [email protected] We look forward to seeing all of your amazing contributions to positive social change and how you helped make a difference in the life of others during these uncertain times. Action could be done in many forms including but not limited to volunteering with an organization i.e. offering your time and effort towards a cause that is focused on helping feed the homeless, contributing financially to an organization or several organizations or donating food and other items needed by these organizations for their target population. Remember a little goes a long way and any amount of volunteering, contributing or donating would have a major impact on someone's life. This Service Project now goes beyond raising awareness of food insecurity, hunger, sustainability and global impact due to Covid by putting the knowledge gained into action and making a lasting difference.
Reference to the inspiration behind our 2ND SERVICE PROJECT as described previously:
During these unprecedented times, people across the globe are feeling the impact of the pandemic in very different ways. In some cases, basic necessities have become difficult to access and resources that were previously available are now limited. In other cases, persons have lost their source of income and struggle to put food on the table for their family. The effects of the corona virus have led to an increase in food insecurity and starvation across the globe. With this in mind, Golden Key IHS, Walden University Chapter dedicated their first Service Project for 2020/2021 towards promoting awareness of hunger, food insecurity, sustainability and the impact of Covid on individuals across the globe. Now, our second Service Project is focused on carrying out the action that helps to make a major impact and inspire others to allow these actions to become a lifestyle.
The instructions for The Service Project are as followed:
1) Pick an organization that you are familiar with or are interested in getting involved in (Please pick an organization that is dedicated to Helping feed the Homeless as this is the theme of our 2nd service project),
2) Volunteer, Contribute or Donate to that organization as many times as you like,
3) Document your journey: Take Pictures or Videos of yourself (please do not take pictures or videos of other people unless permission is granted) and note/journal your involvement, experiences and how it made you feel,
4) Get others involved (Why not include your entire family or a bunch of friends and document this amazing journey towards positive social change),
5) Share, Share, Share we would love to see your journey and hear about your experiences (We would also like to share via our social media platforms and newsletters). Please send your information, pictures and videos to our email or tag us on social media to be featured.
Location
Virtual, United States
Campus Walden University