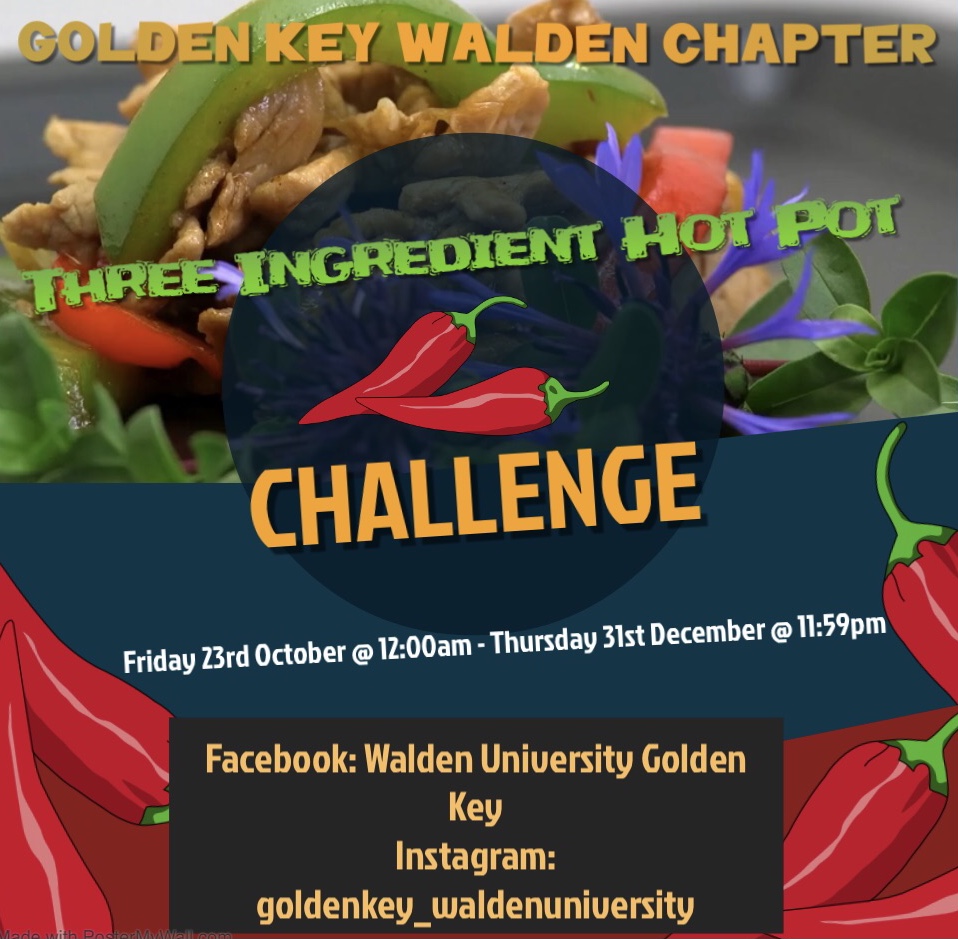 Event Summary
GOLDEN KEY IHS WALDEN CHAPTER'S FIRST SERVICE PROJECT
TITLE: Three Ingredient Hot Pot Challenge
DATE: Friday 23rd October at 12:00am (EST) to Thursday 31st December at 11:59pm (EST)
Description:
During these unprecedented times, people across the globe are feeling the impact of the pandemic in very different ways. In some cases, basic necessities have become difficult to access and resources that were previously available are now limited. In other cases, persons have lost their source of income and struggle to put food on the table for their family. The effects of the corona virus have led to an increase in food insecurity and starvation across the globe.
With this in mind, Golden Key IHS, Walden University Chapter dedicated their first Service Project for 2020/2021 towards bringing awareness to hunger, food insecurity, sustainability and the impact of Covid on individuals across the globe. In order to help raise awareness the Chapter Leaders invite Golden Key Members along with their families and friends to participate in the Three Ingredient Hot Pot Challenge. This challenge is really easy and something that individuals of all ages could get involved in.
The instructions for The Challenge are as followed:
Start by Cleaning out your Kitchen Cupboard/Cabinet,
Next, select 3 ingredients that you could create a meal with (please use ingredients that you currently have at home this is in an effort to prevent food from going to waste),
Make sure the meal you decide on is something that you would eat (remember the goal is that we don't waste any food),
Eat and Enjoy! (DON'T FORGET TO TAKE PICTURES & VIDEOS)
Share your pictures and videos with us via social media* (please see below) and hashtag #yesGK feel free to tag us as well.
*Social Media Information:
Facebook – Walden University Golden Key
Instagram – goldenkey_waldenuniversity
This Service Project was inspired by Terry Lillis and his team along with his community partner, Urban Ventures, the Minneapolis Hub. Their contribution could be found on the Walden University Global Days of Service -2020, (webpage: www.walden.givepulse.com) titled "Clean your Cupboard Hotdish Challenge."
Location
Virtual, United States
Campus Walden University