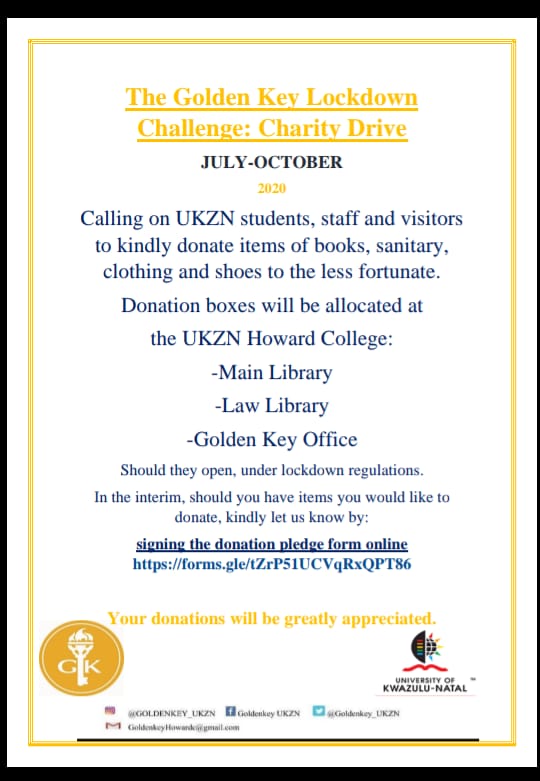 Golden Key UKZN Charity Drive Go to Chapter
Since you get more joy out of giving joy to others, you should put a good deal of thought into the happiness that you are able to give (Eleanor Roosevelt).
Golden Key UKZN presents its annual charity drive. In the common belief that no good deed is ever wasted, we are calling on all members and non-members to donate items they no longer need to a good cause, to someone else they mean the world. Items ranging from clothes, shoes, sanitary wear, books etc.
Please copy the link to fill in a pledge form and we will be in touch.
https://forms.gle/tZrP51UCVqRxQPT86
Location
238 Mazisi Kunene Rd, Glenwood, Durban, 4041, South Africa
Campus Howard College Campus Building Name Student Union Building Room Number Level 1 Room 10
Starts
Jul, 01 2020 12:00 AM
Time zone
Africa/Johannesburg
Ends
Oct, 30 2020 06:00 PM
Time zone
Africa/Johannesburg
Contact Information
Ms Xolile Maphanga
Campus and Community Outreach Director UKZN Howard College Campus
Email: ccodirector.goldenkey@outlook.com
Alternatively;
goldenkeyhowardc@gmail.com