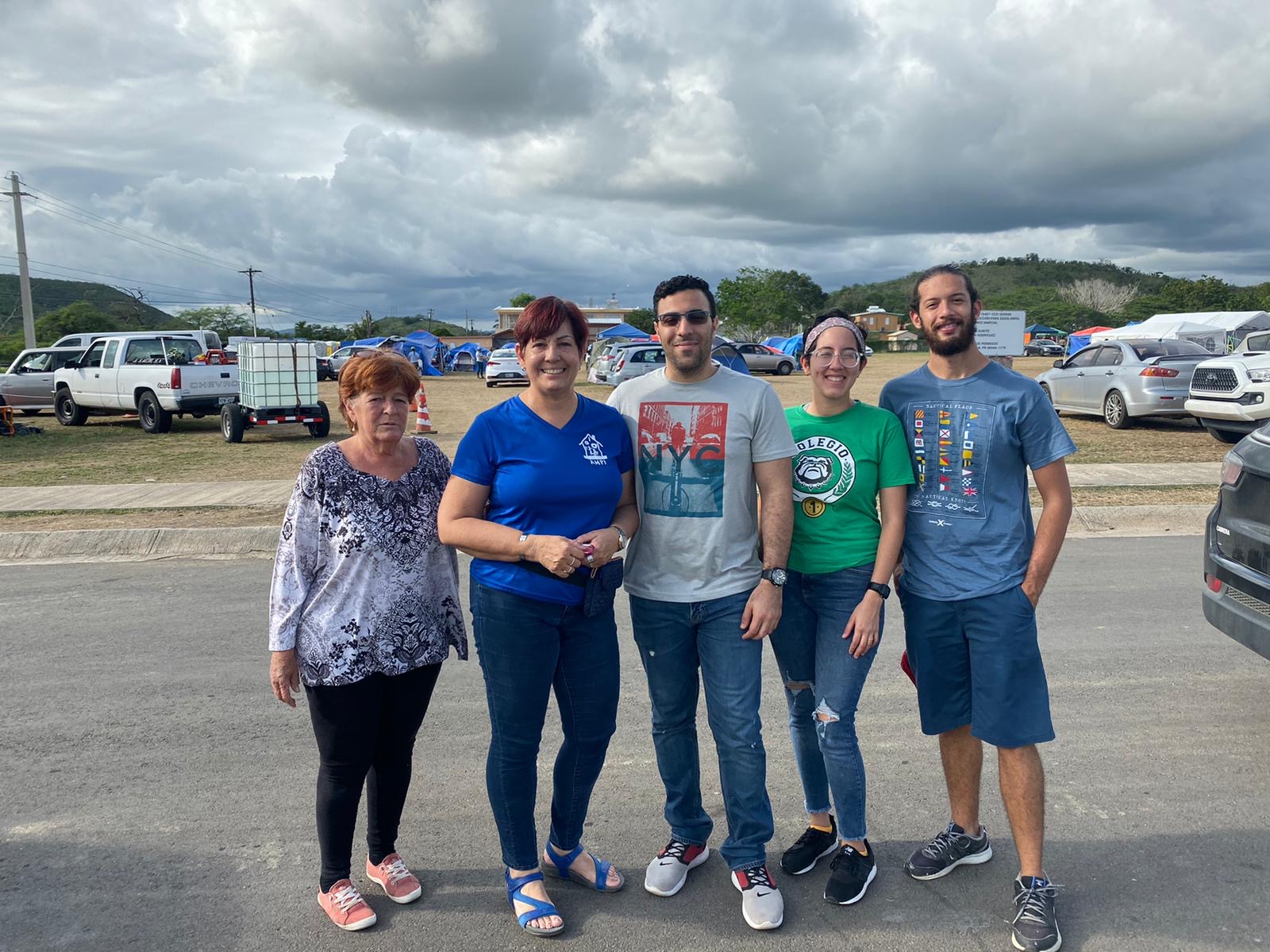 Relief and Aid to Earthquake Victims in Puerto Rico Go to Chapter
During these past weeks our advisor has been partnering with friends in order to try to help communities that have been affected by the quakes and are in dire need. Thanks to donations received from friends here and abroad we have been able to buy and distribute blankets, sleeping bags, towels, toiletries, pillows, plastic containers, tents, bags and many other things requested. Esther Caro from AMPI PA' Puerto Rico have been building camps, kitchens and baths so that those that have lost their homes have some type of temporary shelter.
AMPI is 501 c3 for over 35 years whose main focus is towards people with mental disabilities, they have expanded their services to cover needs of people affected by the last disasters
www.ampipuertorico.org
.
Saturday January 26 a group from Golden Key and from AMPI went to camps, Villa Montalva, Villa Tania and Villa Diablo to donate supplies, ice and first aid kits. Also we visited a student from UPRM whose family was evacuated from their house and requested plastic boxes, lanterns and batteries.
There are many things still to do on the island and it has been the fellow citizens and the non profit organizations that have stepped up to the challenge because the government hasn't done so.
News Article about earthquakes
At the end of December 2019 and in early January 2020, the southwestern part of the island of Puerto Rico was struck by an earthquake swarm,[1] including six that were of magnitude 5 or greater.[2] The largest and most damaging of this sequence occurred on January 7 at 04:24 AST (08:24 UTC) and had a magnitude of 6.4 Mw and a maximum felt intensity of VII (Very strong) on the Modified Mercalli intensity scale.[3] At least one person was killed and several others were injured.[4][5]
A 5.8 Mw  earthquake the previous day caused the destruction of a natural arch, a tourist attraction at Punta Ventana in Guayanilla.[6]A 5.9 Mw  aftershock on Saturday, January 11, damaged many structures, including several historical buildings as well as modern high-rises in the city of Ponce.[7]
Power was lost Island-wide immediately after the quake, and was increasingly restored over a period of a week. Damage to homes was extensive and, by 14 January, more than 8,000 people were homeless and camping outdoors in various types of shelters, with 40,000 others camping outside their homes, just in the city of Ponce alone.[8] There were refugees in 28 government-sponsored refugee centers spread over 14 municipalities of southern and central Puerto Rico.[9] Damage to government structures was calculated in the hundreds of millions[1] and financial losses were estimated in $3.1 billion.[10] A power plant that supplied over a quarter of Puerto Rico's energy needs was badly damaged and was shut down, with repairs estimated to take at least a year.[11]
The day of the main quake, January 7, Puerto Rico governor Wanda Vázquez Garced declared a state of emergency and activated the Puerto Rico National Guard and the Puerto Rico State Guard. That same day, she also made available $130 million in aid to the municipalities affected.[12] The White House also approved $5 million in federal emergency relief.[13][14] On January 12, the day after the January 11 5.9 aftershock, the governor distributed $12 million to six municipalities most affected by the quake.[15][16] Tent citieswere set up in five of the hardest-hit towns with space for some 3,200 refugees.
Location
259 Alfonso Valdes Ave., United States
Campus University of Puerto Rico Mayaguez Building Name Stefani Building
Transportation Information
Gabriel will give transportation. Meeting site will be at AMPI site Zona Libre