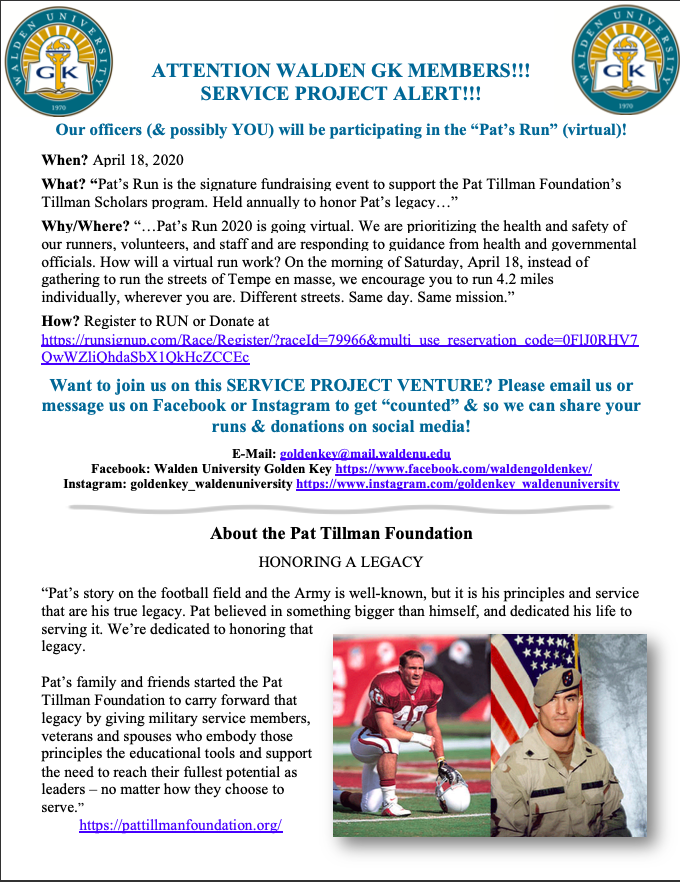 Service Project "Pat's Run" Go to Chapter
ATTENTION WALDEN GK MEMBERS!!!
SERVICE PROJECT ALERT!!!
Our officers (& possibly YOU) will be participating in the "Pat's Run" (virtual)!
When? April 18, 2020
What? "Pat's Run is the signature fundraising event to support the Pat Tillman Foundation's Tillman Scholars program. Held annually to honor Pat's legacy…"
Why/Where? "…Pat's Run 2020 is going virtual. We are prioritizing the health and safety of our runners, volunteers, and staff and are responding to guidance from health and governmental officials. How will a virtual run work? On the morning of Saturday, April 18, instead of gathering to run the streets of Tempe en masse, we encourage you to run 4.2 miles individually, wherever you are. Different streets. Same day. Same mission."
How? Register to RUN or Donate at https://runsignup.com/Race/Register/?raceId=79966&multi_use_reservation_code=0FlJ0RHV7QwWZliQhdaSbX1QkHcZCCEc
Want to join us on this SERVICE PROJECT VENTURE? Please email us or message us on Facebook or Instagram to get "counted" & so we can share your runs & donations on social media!
About the Pat Tillman Foundation
HONORING A LEGACY
"Pat's story on the football field and the Army is well-known, but it is his principles and service that are his true legacy. Pat believed in something bigger than himself, and dedicated his life to serving it. We're dedicated to honoring that legacy. Pat's family and friends started the Pat Tillman Foundation to carry forward that legacy by giving military service members, veterans and spouses who embody those principles the educational tools and support the need to reach their fullest potential as leaders – no matter how they choose to serve." https://pattillmanfoundation.org/
To Read the full story of Patrick Tillman's visit: https://pattillmanfoundation.org/the-foundation/pats-story/
Location
Online, U.s.